In Loving Memory of Victoria Venditti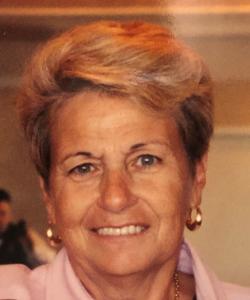 In honor of our beloved Victoria "Vicki" Venditti, the family requests that in lieu of flowers, memorial donations be made to the Kids for Kids Foundation.
Visitations will be held on Wednesday, November 18th from 4pm - 8pm at O'Brian Funeral Home located at 2028 NJ-35 in Wall Township, NJ.
ABOUT Memorial Donations
The Kids for Kids Foundation is a community of friends, families, and colleagues raising money for organizations that support children and families facing medical challenges. We are proud to support our donors with Memorial Donation pages to honor and remember those who have passed while their generosity continues to impact the lives of others.
Supporters
Name
Date
Amount
Comments
Roy Coombes
02/14/2021
$25.00
For St. Judes
Cynthia Englise
02/08/2021
$40.00
Vilma & Roy Garrie
12/27/2020
$50.00
Dear Wendy & family, Our sincere condolences for your loss. May God give you strength in this difficult time. Love, Roy, Vilma and family.
ING Financial Services LLC
12/08/2020
$500.00
Judith & John Masterson
12/07/2020
$75.00
A donation to honor the memory and life of our friend, Victoria Venditti.
Karen Silverman
12/03/2020
$100.00
We were so saddened to hear the news of Vicki's passing. Our thoughts are with Wendy and the family. Love, Karen and Howard Silverman
Thomas Bellina
12/01/2020
$100.00
Rest in peace, love Fran, Tom, Alex and Alise
Dana & Tony Merola
12/01/2020
$200.00
Rest In Peace
Thomas Bellina
11/30/2020
$100.00
We will miss you.
Jay Chazanoff
11/27/2020
$1,000.00
Lucille and I loved Vicki.We always looked forward to spending time together.My sincerest condolences to Maria,Anthony,Wendy and the Family.I will miss her.
Linda Ponzio
11/25/2020
$100.00
Vicky was loved by so many and will be missed by all. Even with her passing, she is helping children. God holds a special place for her in heaven. My deepest condolences. ~ Linda Ponzio
Diane Gurgone
11/25/2020
$25.00
In memory of an amazing, kind and beautiful soul. Sending love to Wendy and the Venditti & Bellina families. Diane and Len
Brian Cahalan
11/25/2020
$100.00
In Honor of Victoria Venditti
Elyse Wander
11/24/2020
$50.00
Donation in memory of Vicki Venditti from Elyse Wander & Judy Retchin.
Gebbia Family
11/24/2020
$200.00
Our deepest sympathy, from the Gebbia Family
Doug and Cathy Tveter
11/24/2020
$200.00
We hope you feel surrounded by the love and wonderful memories of your Mom. Love, Doug and Cathy
Ronni Bohm
11/24/2020
$100.00
in loving memory from Barb, Betty, Christine, Connie, Dawn, Joan,Joanne, Pat and Ronni B, & Ronni D----Vicki's Pickle Ball Groupies
Trish Straine
11/23/2020
$50.00
In loving memory of a wonderful mother and grandmother, Vicki Venditti
BERNADETTE GANIO
11/22/2020
$50.00
Vickie will be remembered as a kind, generous and good person who welcomed everyone into her life. We will miss her.
Mary Mottola
11/22/2020
$100.00
I have fond memories of Vicki. All seem to be either about tennis or food. I wonder why? and of course they all include Wendy. Two great people. I am so sorry for your loss.
Jo Ellen Fusco
11/22/2020
$100.00
In memory of our dear friend Vicki. Jo Ellen Fusco & Michele Kaufman
Neil Vaccaro Family
11/21/2020
$500.00
You will be missed. Gone too soon. Love Karen Neil Lauren Todd Graham Daren Gemma Jovie
Earnestine Lannigan
11/21/2020
$100.00
Wendy, there are no words! I am so very sorry for your loss. My condolences to you and the whole family.
Barbara Murray
11/21/2020
$50.00
Vicki was a vibrant woman whom Frank and I will miss. This us a terrible loss.
Kirk and Kathy Oates
11/20/2020
$50.00
Greg Ferrara
11/20/2020
$200.00
T - really saddened to hear the news. Have you and your family in our thoughts - be as strong as you always are for them, looks like a great cause in her memory my friend. Much Love - Greg, Eva, Alessandra, Christian & Micaela
Lynn Suche
11/20/2020
$75.00
I am so shocked and saddened to learn that I've lost a friend and Florida golf buddy. Vicki had the best names for her golf balls when they didn't go where she wanted. My love to Wendy and both the Venditti and Bellina families.
Linda & Ted Garrie
11/20/2020
$25.00
Larry Ng
11/20/2020
$100.00
My deepest condolences to the family. It is a very sad news to hear about Coach V's passing. Coach Venditti, thank you for everything that you have done for me. You are one of the few people who shaped me to be the person that I am today and showed me how to be an educator. Rest in Peace! I will always remember you for all the life lessons and advice that you have given me over the years. Larry
Audra Grottola
11/20/2020
$50.00
Sorry for the loss to the whole family. Deepest sympathy to Wendy
Judith Mannino
11/19/2020
$20.00
With deepest sympathy, Judy Mannino
Sarita Jensen
11/19/2020
$100.00
Our most heart felt condolences to Anthony, Melissa and all the Venditti family for your profound loss. Love and prayers, Gerry Heffernan & Sarita Jensen
Nicole & Michael Levine
11/18/2020
$100.00
Keeping your family in our thoughts and prayers. Sending our deepest condolences. Love, Michael and Nicole
Chris Bodner
11/18/2020
$100.00
Very sad to hear about your loss. Wishing you and your family well in this very difficult time.
Steve Maltz
11/18/2020
$500.00
We are so sorry for your loss, Steve and Megan
Joanne Desimone
11/18/2020
$100.00
Our deepest sympathy to the Venditti and Bellina families. Vickie will always be in our hearts with her beautiful smile and sense of humor. Love, The DeSimone Family
Vincent Angelico
11/18/2020
$100.00
So Very Sorry for your Loss, Vincent & Susan Angelico
Andrea Badalamenti
11/18/2020
$100.00
Robert Lakeman
11/18/2020
$100.00
Deepest sympathies from the Lakeman family. Love and prayers from Roe, Rob John and Alexa.
Richard and Lisa Correra
11/18/2020
$100.00
So very sorry for your loss. You are all in our thoughts and prayers. With our deepest sympathies, Lisa, Richard, Ava and Lia Correra
Robyn Prickett
11/18/2020
$35.00
<3
Marcella Delany
11/17/2020
$100.00
Dear Wendy & Vickie's Family She will always be remembered and you are all in my daily prayers. May God surround you with his healing love. Hugs B & Frank
Victoria Venditti
11/17/2020
$200.00
SO VERY SORRY FOR YOUR LOSS Sibby & Flossie Angelico
Lillian Montalbano
11/17/2020
$100.00
Gaye Williams
11/17/2020
$100.00
In honor of a beautiful, fun and caring friend. Xxx
Michelle Hicok
11/17/2020
$50.00
Our deepest sympathies-gone too soon. She will truly be missed. With love, The Hicok Family
Carm, Enzo, Alex, Zia Rosa, and Zio Giovanni Iammatteo/Santangelo
11/17/2020
$100.00
Our deepest condolences to the Venditti and Bellina families. Vicki will always be in our hearts. We will always remember her kindness, generosity and sense of humour. Rest in peace beautiful soul. We love you, Vicki. Carm, Enzo, Alex, zia Rosa, and zio Giovanni
Linda & Brad Rothbaum
11/17/2020
$100.00
Tony, we are saddened by loss of your mom. While we never knew her, her love of family, her love of cooking, and her depth of character, clearly left its mark on you. May her memory be a blessing to you for all time. With love and respect, Brad & Linda Rothbaum
Michael Burke
11/16/2020
$200.00
Our deepest sympathies The Burke Family
Total
$6,720.00
Report Abuse
Edit My Page