In Loving Memory of Carmine Palladino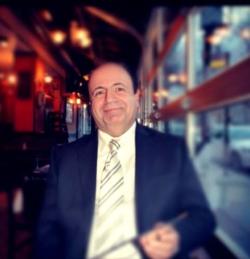 In honor of our beloved Carmine Palladino, the family requests that in lieu of flowers, memorial donations be made to the Kids for Kids Foundation benefitting St. Jude Children's Research Hospital.
Since 2008, Kids for Kids has focused their fundraising efforts to St. Jude Children's Research Hospital. St. Jude is leading the way the world understands, treats and defeats childhood cancer. At St. Jude, families never receive a bill or treatment, travel, housing or food - because all a family should worry about is helping their child live. Since its inception, Kids for Kids has raised over $11 million for the families and patients of St. Jude.
Visitations will be held at Balsamo Funeral Home located at 3188 Westchester Ave, Bronx, NY 10461 on Thursday, June 3 from 7:00PM to 9:00PM and Friday, June 4th from 2:00PM to 5:00PM and 7:00PM to 9:00PM
A Funeral Mass will be held on Saturday, June 5th at 10:15AM at St. Theresa Parish Church located at 2855 St. Theresa Ave, Bronx NY 10461 followed by a Funeral Service at St. Raymond's Cemetery located at 2600 Lafayette Ave, Bronx NY 10465 .
ABOUT Memorial Donations
The Kids for Kids Foundation is a community of friends, families, and colleagues raising money for organizations that support children and families facing medical challenges. We are proud to support our donors with Memorial Donation pages to honor and remember those who have passed while their generosity continues to impact the lives of others.
Supporters
Name
Date
Amount
Comments
Anonymous Friend
08/02/2021
$350.00
Torrie Erickson
07/19/2021
$100.00
Steve and Family, sorry for your loss. He will be missed.
Wayne Hamilton
06/30/2021
$1,000.00
Miss you every dad!
Anonymous Friend
06/30/2021
$2,082.00
Life will never be the same. Love you pop ❤️
Michael & Kelly Bice
06/18/2021
$550.00
In honor of Carmine Palladino this is from from all the Service Members and Civilians assigned to Joint Task Force Javits we are sending our deepest condolences and love to Steven and his family
Michele Miller
06/15/2021
$100.00
In Honor of Carmine Palladino
Enis Madhi
06/13/2021
$50.00
Martha Pellegrino
06/12/2021
$100.00
In memory of a dear friend.
Pamela Durini
06/10/2021
$50.00
My sincerest condolences. You're always in my thought and prayers. Pamela
Joseph Bortolussi
06/09/2021
$200.00
Catuogno Family
06/08/2021
$500.00
Dearest Palladino Family, Sending our deepest condolences to all. With Much Love, The Catuogno & Calarco Families
Barbara Fisk
06/08/2021
$100.00
From Erik Fisk
Joseph Dussich
06/07/2021
$1,000.00
Robert Catalano
06/07/2021
$500.00
Deepest Condolences
Rich Singer
06/07/2021
$200.00
My deepest sympathy's to a legend! Your friend Rich Singer
Craig Shapiro
06/07/2021
$118.00
Very sorry for your loss Steve
Williams Equities
06/07/2021
$500.00
Jacqueline Moran Fiore
06/07/2021
$100.00
Sending so much love to the Palladino family.
Yana Polikarpov
06/06/2021
$100.00
Sending my deepest condolences to Michele and the entire Palladino family during this difficult time. I know your pop is so proud of you and your brother and may his memory continue through your beautiful young family! Sending my love
Mike and Laura Palladino
06/06/2021
$500.00
Ralph DeVito
06/06/2021
$100.00
Condolences to Steve and the rest of the Palladino Family. Rest In Peace.
Anne and Peter Romain
06/05/2021
$500.00
In loving memory of Carmine, Thank you for being such a great friend to the Romain Family. Our thoughts and prayers are with the Palladino family during this time. Love, The Romains
Chris Anagnostopoulos
06/05/2021
$300.00
To my dearest friend Carmine, you will be forever missed and always be in our hearts and prayers may you rest in peace.
Kyriaki Aronis
06/05/2021
$300.00
Sending our deepest condolences to Steven and the entire Palladino family during this difficult time. May Carmine's memory live on forever.
Brian Macfadden
06/05/2021
$100.00
Rest In Peace uncle carmine love you
Devyn Abbate And Joe Tringali
06/05/2021
$100.00
Dear Steve, Ashley, and the Palladino family, We are so incredibly sorry for your loss, May Carmine Rest In Peace. Love, Devyn and Joe
Nail Capri
06/05/2021
$500.00
Sending my deepest condolences to Steven and the entire Palladino family during this difficult time. May Carmine's memory live on forever. Hang in there my friend ?
Jerry Aliberti
06/05/2021
$100.00
Rest in Peace Cousin Carmine
Joan Foltz
06/04/2021
$100.00
Rest In Peace, our friend. It was truly an honor to know you. To Ellen and family...saying prayers for you all that you may find comfort in your hearts knowing that Carmine is with our Lord. Love you ❤️❤️❤️
Thomas Walsh
06/04/2021
$250.00
Nick Raineri
06/04/2021
$500.00
Peter & Carolyn Mifsud
06/04/2021
$200.00
My deepest condolences to the Palladio family.
Stelio & Ellie
06/04/2021
$500.00
General Plumbing Corp
06/04/2021
$300.00
To our friend Carmine, May you rest in eternal peace. Your heart of gold was second to none. We will forever be gratefulto have been blessed by your unmatched generosity. We will love and miss you always. Love your friends and family at General Plumbing.
Bob Bicocchi
06/04/2021
$200.00
The Bicocchi Family is very sorry for your loss.
Mary Marinelli
06/04/2021
$50.00
In loving memory of our nephew Carmine Love, aunt Mary & uncle Henry
Roseann, Tim & Rosie Degnan
06/04/2021
$75.00
Rest In Peace Carmine. You were a beautiful person with a kind soul. May the special memories bring some loving comfort to your family and friends. Our thoughts and prayers are with you and your family ?? Love Roseann, Tim & Rosie
Angelo Grima
06/04/2021
$100.00
To my Dear Friend. Your suffering and pain is over. Rest Well until we meet again??
Kristen and Lauren Carew
06/04/2021
$100.00
We are so sorry for your loss. Sending you and your family love and prayers.
Don Zacchino
06/04/2021
$250.00
You will always be remembered by those whose lives you touched!
Robert Dasaro
06/04/2021
$100.00
In loving memory of Carmine Palladino.
Camille Agro
06/04/2021
$100.00
My sincere condolences to Steve, Ashley and family! May he Rest in Peace!
Martha Anagnostopoulos
06/04/2021
$100.00
In loving memory of Carmine Palladino. May your memory be eternal. Demetri and Martha Iliou
James Halpin
06/04/2021
$1,968.00
I'm so sad to see you go too early, but so proud to have known you, and grateful for all your friendship and support. Your spirit will live on through Steven and your beautiful family, may God Bless your soul and bring you the peace and love you so deserve!
Michael La Rosa
06/03/2021
$200.00
Please accept our deepest condolences and sympathy. You are in our thoughts and prayers. My God bless you with the strength and peace you need during this time. Love, Mike, Amy and our children ❤
Sean McGrail
06/03/2021
$50.00
Brian & Colleen Horan
06/03/2021
$250.00
Irwin Brenner
06/03/2021
$200.00
Mark Busuttil
06/03/2021
$50.00
In loving memory of Carmine Paladino.
Frank LaSusa
06/03/2021
$100.00
Sal Amato
06/03/2021
$500.00
11 Madison SL Green Engineers
06/03/2021
$100.00
Deepest sympathies and condolences to the Palladino Family on their great loss from the SL Green crew at 11 Madison Ave.
Marie Abbate
06/03/2021
$100.00
We are so very very sorry for your loss! Sending you our love. Marie and Chris Abbate
Gary Huggins
06/03/2021
$100.00
To a wonderful person and a great guy. You will be greatly missed. May you rest in peace.
Rocco Talarico, Laura Acciarino
06/03/2021
$100.00
Our condolences to the Palladino family. Rest In Peace Carmine.
General Plumbing Corp.
06/03/2021
$5,000.00
To our dear friend Carmine, God Bless you and may you Rest In Peace. Our deepest condolences to the entire Palladino family. With love, your friends and family at General Plumbing.
William Vazquez
06/03/2021
$500.00
Carmine, you were loved and respected by so many. Rest In Peace my friend
Andrew Moran
06/03/2021
$1,000.00
Carmine, May God Bless you and may you Rest In Peace. Our friendship will never be forgotten. Our hearts are with the Palladino family during this difficult time. With love, the Moran Family.
Igor Mucha
06/03/2021
$250.00
It was such an honor and privilege to have known you. This is just a temporary good bye to a wonderful friend. The fond memories and great times are with us forever until we meet again. May God bless you and your family. Love Igor and Denise
Peter Zientara
06/03/2021
$200.00
Dear Carmine, You are in our hearts until we meet again. Our condolances to the entire Palladino Family. Maria and Peter Zientara
Michele Sabatele
06/03/2021
$200.00
In memory of Carmine Palladino, may he rest peacefully. From your friends at 200 Liberty Street, Jesse Edelman, Michele Sabatiele, Kevin Riordan & Gina Otero
Louis Cordero
06/03/2021
$50.00
To Mike and the Palladino family. I will keep Carmine and all of you in my prayers. Although this is a time of great sorrow for for the loss of Carmine there will come a time where the sorrow is replaced by the fond memories Carmine created for all of you.
Vincent & Purim Farina & King
06/03/2021
$50.00
Our deepest condolences for the loss of your brother.
Brittany and Billy Kiefer
06/03/2021
$100.00
May you Rest In Peace Uncle Carmine. The most giving man who just found so much joy in seeing his grandkids grow. Now you are watching over us. You are deeply missed and the memories of you we'll hold onto forever. Love, Brittany, Billy, Riley & Hailey
Maureen O'Connor
06/03/2021
$250.00
My deepest sympathies to the Palladino Family.
Douglas Hentze
06/03/2021
$500.00
Carmine will surely be missed he was one of kindest most generous men I ever meet. thoughts and prayers to his family and co-worker's
Stephen Mcgann
06/03/2021
$250.00
In loving memory of my dear friend
Carol Schwartz
06/03/2021
$36.00
With sincere sympathy to Stacy and the Palladino family . We are so very sorry for your loss . Fondly , carol and Kenny Schwartz
Simi Bridgelal
06/03/2021
$25.00
RIP all the great memories will be cherished
Matteo Navarra
06/03/2021
$100.00
Condolences to Steven and family. May you Rest In Peace Carmine you always be in our hearts. Matteo Navarra and family
Leonard Knief
06/02/2021
$500.00
Marc Melvin
06/02/2021
$500.00
The Lord is close to the brokenhearted, and saves those who are crushed in spirit. – Psalm 34:18
Rich Sica
06/02/2021
$100.00
Donna Zavattieri
06/02/2021
$250.00
In loving Memory of our friend Carmine Palladino. Love Donna and Anthony Zavattieri and Fam
Sasha Santos
06/02/2021
$200.00
May you rest in paradise. Heaven gained a beautiful soul??
Brendon Mavra
06/02/2021
$200.00
Brian Kaminskey
06/02/2021
$500.00
Mary McCaffrey
06/02/2021
$150.00
In loving Memory of your Dad, Carmine Palladino. Love you Steve. Mary McCaffrey and family.
Andrew Lombardo
06/02/2021
$100.00
My condolences to Steven and his family. Carmine will truly be missed.
Jennifer Malinowski
06/02/2021
$50.00
God bless you Uncle Carmine- may you Rest In Peace! Love you always and forever!
Jennifer Malinowski
06/02/2021
$200.00
God Bless you Uncle Carmine- May you Rest In Peace- love you always and forever! From Adam, Jen, Natalie, Andrew, Luke, and Vivienne
Stephanie Rivera
06/02/2021
$50.00
You will always be in our hearts and never forgotten! You will be missed! May your legacy carry on.
Katehis Family
06/02/2021
$500.00
George Picon
06/02/2021
$125.00
Rest In Peace Carmine.
Anonymous Friend
06/02/2021
$36.00
In Memory of Carmen. Sending our love and strength during this incredibly tough time.
Erica Wiener
06/02/2021
$25.00
We're so sorry for you loss. Love, The Wieners
Stacy Sakellariou
06/02/2021
$300.00
Goodbyes are not forever. Goodbyes are not the end. They simply mean I'll miss you, Until we meet again! Rest Easy Uncle Carmine We love you! Love always, Stacy, John, Olivia & Sophia
Jean and Alan Macfadden
06/02/2021
$200.00
Remembering his wonderful and gentle soul will forever remain in our hearts...Rest in peace Carmine...love you always??
MICHAEL AND GRACE PALLADINO
06/02/2021
$200.00
To My Amazing Brother Carmine, You may be gone from my sight...but you will never be gone from my heart. Love, Michael & Grace
REBECCA Amado
06/02/2021
$25.00
Sending you all love and strength during this difficult time. We are so sorry for your loss. Love the Amado Family
Jeffrey Pasternack
06/02/2021
$250.00
You were by far the greatest family man I ever met. You will always be remembered and our time here on earth cherished. Rest in peace my dear friend.
Vincenzo + Anna Recine
06/02/2021
$250.00
Rest in Peace to our great friend Carmine. Your smile, thoughtfulness, never ending compliments and great company will never be forgotten. Our thoughts and prayers are with the Palladino Family during this difficult time.
Anderson Santos
06/02/2021
$200.00
In loving memory of Carmine Palladino. A loving father, husband and an amazing friend. You are going to be missed but never forgotten. Rest In Peace my friend.
Elvira Acciarino
06/02/2021
$35.00
Sending my deepest condolences to the Palladino family. Keeping you in my thoughts & prayers.
Marilena Katechis
06/02/2021
$100.00
May Carmine's memory live on as he rests in eternal peace with our Lord and Savior - Amen
Total
$30,400.00
Report Abuse
Edit My Page