In Loving Memory of Thomas Oliva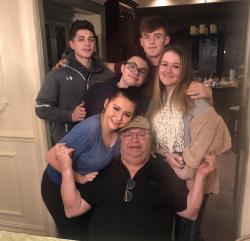 In honor of our beloved Thomas Oliva, the family requests that in lieu of flowers, memorial donations be made to the Kids for Kids Foundation.
Visitations will be held on Thursday, August 20th from 2pm-4pm and 7pm to 9pm at the Scarpaci Funeral Home, located at 6389 Amboy Road, Staten Island, NY.

Mass will be held on Friday, August 21st at 10:30am at St Joseph St Thomas Church located at 6097 Amboy Road, Staten Island, NY followed by the burial at Resurrection Cemetary located at 361 Sharrott Avenue, Staten Island, NY.
ABOUT Memorial Donations
The Kids for Kids Foundation is a community of friends, families, and colleagues raising money for organizations that support children and families facing medical challenges. We are proud to support our donors with Memorial Donation pages to honor and remember those who have passed while their generosity continues to impact the lives of others.
Supporters
Name
Date
Amount
Comments
Diana Wasserman
09/02/2020
$20.00
Judy Matouk
08/27/2020
$100.00
Uncle Tommy, you will always be missed. I will remember your smile, great laugh and love of your wonderful family and of course your wife Matilda. ❤️
Diego Michele And Olivia Dumas
08/24/2020
$100.00
Rest In Peace.
Anonymous Friend
08/23/2020
$31.00
Margaret Maldarelli
08/20/2020
$20.00
May he rest in peace Love margaret maldarelli
Rosemarie & Joseph Capone
08/20/2020
$500.00
Dear Brother in Law we will miss you and love you forever. God took you to soon . Rest In Peace. Love Rosemarie & Joseph Capone
Theresa Brunetti Dara
08/20/2020
$50.00
Our Deepest Condolences Love, The Dara Family
Marissa & Frank Capone & Family
08/20/2020
$250.00
Love you and miss you forever XOXO
Maria Downey
08/19/2020
$250.00
Rest In Peace My Dear Uncle Tommy. We were all so blessed to have you & Aunt Matilda in our lives. Loving condolences to your boys and their families.
Tom Savino
08/19/2020
$200.00
From the savino family to a good uncle and brother in law RIP
Anthony Oliva
08/18/2020
$1,000.00
Thank you for being the best Father/Grandfather anyone could ask for. We will honor your life and memory forever. Love Anthony, Ayo & Brianna
Bert Capone
08/18/2020
$500.00
Todd Baslin
08/18/2020
$500.00
Uncle Tom you will be greatly missed.We Love You Rest In Peace
Robert Catalano
08/18/2020
$250.00
From the Catalano Family Robert, Kristin, and Siena
Neil Capone
08/18/2020
$250.00
REST IN PEACE MR.O ❤️
Joseph Palermo
08/18/2020
$200.00
Our condolences love the Palermo's
Total
$4,221.00
Report Abuse
Edit My Page